"Harley Quinn" returns for new adventure in issue #17
The DC Comics star faces a strange quandary in this latest issue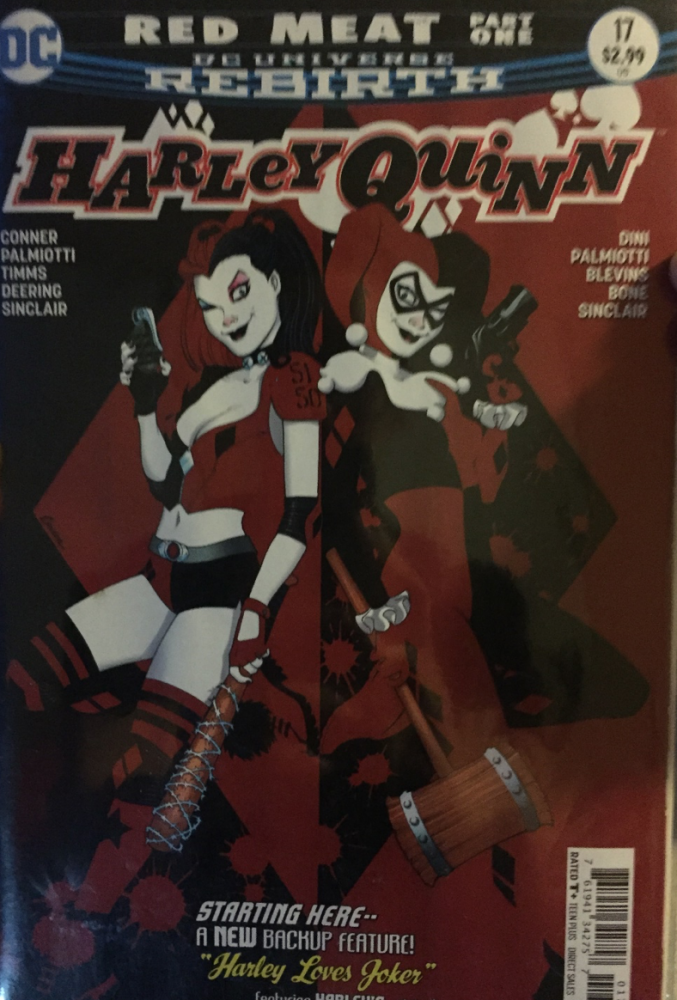 Daryl Ann Marinkovich, Reporter, Scottsdale Chronicle
May 15, 2017
"Harley Quinn" issue #17, written by Amanda Conner and Jimmy Palmiotti, starts off "Red Meat: Part 1" while also giving longtime fans a special backstory written by Paul Dini in the back pages of the issue. 
We open with Harley Quinn, looking for the missing Skipper, a homeless man that she has befriended. Finding this quite odd, she comes across a friend named Josh who works in Coney Island, and asks if he has seen Skipper around anywhere. He states that he has not but mentions that he has noticed other homeless people that have gone missing as well. 
A week later, she finds out that there have been people in a van who have offered food and shelter to the homeless people they subsequently snatch, never to be seen again. Harley Quinn then goes undercover with two of her close friends: a pet named Eggy and Red Tool.  She poses as a homeless woman sleeping in a tent in Prospect Park, Brooklyn, while Eggy and Red Tool keep watch.
What stands out the most is when we see a flicker of Dr. Harleen Quinzell shine through our beloved wild card, when she expresses to her friends the hardship that homeless and/or mentally disabled people go through. Traditionally, we see Harley Quinn act in such a wild, unpredictable manner, but she has blown up in a huge way that she has almost become an icon. More people are reading her comic books, and to have such a wild character still have such heart and passion to help others and do the right thing is very uplifting.
But we are immediately given whiplash about how quick Harley Quinn flushes back as she is interrupted by three teenagers looking for trouble. One of them lights her tent on fire and Harley Quinn comes in full swing with a bat at one of the other teenagers while the fire from her tent grows behind her symbolizing the anger within herself.  Two run off, but before the third can, Red Tool grabs him and throws him in a trash can on wheels with plans to bring him straight to the police.
Just when Harley Quinn thinks she has found her perpetrators, a van rolls up. Two people get out and offer food and shelter for her because she looks homeless. Harley Quinn asks who they are and they state that they work for the city, for the mayor in particular. When she also asks for some identification from them, she gets a nice napkin full of chloroform to the face. Our new and improved wild card can still get herself into a little bit of trouble and fall into bad habits.
By far the best part of this issue is the back story, "Harley Loves Joker, Part 1," written by the creator of Harley Quinn himself, Paul Dini and Jimmy Palmiotti.  Longtime fans love to see Harley Quinn in her classic red and black one piece, and that is waiting for the reader on the cover of this special backstory.  Alongside our classic Harley Quinn, we also get her one and only puddin', the Joker.  After a spoiled bust they end their New Year's Eve night, the Joker with a crow bar in hand, on a new adventure leading into what is to come next in "Harley Loves Joker, Part 2."
In issue #18, we will see how – or even if – Harley will escape from the hands of these unforeseen enemies and find out who has been capturing all of these innocent homeless people, not to mention whatever crazy and diabolical adventure the Joker has in store for her.
Rating: 7/10