Student media tries navigating uncharted territory
College administrators have started to crack down on stories they find unflattering, and defenders of press freedom are trying to stop it
President Donald Trump and his administration have referred to the news media as "fake" on several occasions, even going so far as to say that it is the enemy of the American people in a Feb. 17 tweet.
Journalists and the press being seen as the "enemy of the American people" is a sentiment that historically has been felt among some in government and scrutiny of the media has often been seen as viable to those in positions of power and authority. Some corporations are not fond of the press because it is charged with informing the public of activities within a corporation and sometimes this includes corruption or malfeasance.
The media is used to this criticism, but there is a disturbing trend among some university, college and even high school campuses over the elimination of student press and free speech.
Some schools have started to take aim at their own newspapers and journalism departments. A 2015 report caught the attention of the American Association of University Professors, which released findings in light of an incident at the University of Missouri between a journalism student videographer and a Black Lives Matter protester who was also a faculty member. In the incident, which was caught on camera, professor Melissa Click is shown telling the student to leave the area and was heard calling for "some muscle" to remove the student because he did not belong – even though he was well within his rights to be there and record the unfolding events.
This report and other incidents nationwide apparently got the members of the AAUP thinking about the overall treatment of student journalists on college campuses. While conducting their research, they came across an interesting piece of information.
"A March 2016 survey of college and university media advisers affiliated with the College Media Association revealed that over a three-year period more than twenty media advisers who had not previously shared their stories reported suffering some degree of administrative pressure to control, edit, or censor student journalistic content. This pressure was reported from every segment of higher education and from every institutional type: public and private, four-year and two-year, religious and secular."
Frank Lomonte is the Executive Director of the Student Press Law Center. The SPLC is a non-proft organization dedicated to advising, promoting and protecting press freedom among high school, college and university student newspapers. Both the Scottsdale Chronicle and Northeast Valley News follow SPLC guidelines.
Lomonte said that while it is rare for colleges and universities to abolish news organizations, other forms of retaliation for unflattering stories are commonplace, including adviser dismissal, a loss of financial support and diminished access to campus decision makers.
"For instance, the new president at Delta State University de-funded journalism and eliminated funding for the student news as part of a campus-wide purge of people he believed to be disloyal, claiming that the college couldn't afford journalism anymore," Lomonte said. "The administration at Long Island University has recently eliminated the student newspaper's printing budget in what appears to be a direct response to the newspaper's unflattering coverage of campus turmoil including a faculty lockout.
"In recent years, the University of Kansas and University of Nebraska newspapers have each faced threats of serious budget reductions after publishing unfavorable articles about the student government association," he said.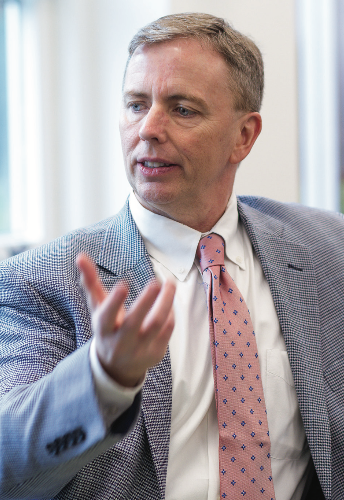 Some schools now claim that due to financial problems, the student press must be shut down. But according to Lomonte, the onus is on schools to prove that they are actually out of money and that there is no option of moving or securing monies to preserve student press — either a student newsprint or student website. Some universities are challenging on First Amendment grounds.
SCC student and psychology major Josh Merritt believes it is important to have a student news organization on campus.
"Students should stay informed through people of their own age, their own peer group and that might share the same kind of opinions with or completely be opposite with so they can kind of debate it or just at least kind of question it themselves," Merritt said. "Otherwise if they're getting information from outside sources and maybe not just from school — that could be biased — like with all the bullshit we're going through right now with the media and Trump and all that kind of crap."
Many journalism programs have gone digital cutting much of the cost of printing and production. At SCC, the majority of student reporting is now digital and posted on nevalleynews.org since students consume their news via the internet. The student website has received the support of school administration and faculty.
Still, some schools fear less and less that the elimination of student press will be challenged by citing the First Amendment, in part due to an economic climate that will leave few asking why cuts are necessary.
For the most part, schools value student press and both faculty and administration work to protect the investment in an active campus student voice. But Lomonte's role with SPLC is to make sure that colleges and high schools understand speci c student press protections.
"At Delta State, for instance, the students never even got as far as taking the college to court despite what seemed clearly to be content-motivated retaliation, because it's incredibly hard to find volunteer counsel who can spend two or three years in court on a case with uncertain prospects of success," Lomonte said. "They [colleges] can be pretty brazen about taking punitive action against journalists, doubly so in the current culture, I'm afraid, because journalism has been so devalued."
In Arizona, Republican State Senator Kimberly Yee has proposed Senate Bill 1384, which aims to protect student press from being punished for stories that could alter a school's image. Lomonte and the SPLC are proponents of the bill, which passed a House committee by a 10-1 vote on March 7. Now, it needs the support of the full House before it lands on Gov. Doug Ducey's desk.
"Senate Bill 1384 spells out limited grounds on which a school can censor — basically, speech that is illegal or is physically dangerous to safety," Lomonte said. "What schools will no longer be able to do is censor purely for image-control or public relation purposes which is by far the most common basis for censorship. There is no legitimate justification for withholding accurate information or well-researched opinions from a campus audience just because it's unfavorable to the school's image."
Lomonte is optimistic SB 1384 will become law given its strong bipartisan support, and said it is the latest in an emerging trend of similar bills designed to safeguard student press freedom and further underscore pointless censorship.
"Bills of this kind have passed very easily with overwhelming votes in Illinois, Maryland and North Dakota over the past two years, and are cruising through legislatures this year in Indiana, Missouri, Vermont and Washington, and we have no reason to think Arizona will be any different," Lomonte said. "These bills have been quite uncontroversial, because legislators recognize that social media and cost-free online publishing makes censorship futile and self-defeating in the 21st century."
Lomonte and the SPLC will continue to push the organization's strategic vision to "use the law to help students of all ages meaningfully participate in civic life and learn essential skills, ethics and values through the vehicle of journalism." He discussed how a student press must hold administration accountable and the dangers inherent in not doing so.
"A school is a government agency, and students are its most knowledgeable patrons," Lomonte said. "If they don't feel safe blowing the whistle on substandard conditions, then the public may never find out if schools are ineffective or dangerous."