LGBT community welcome at The Franciscan Renewal Center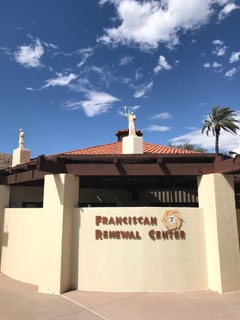 The LGBT community is more than welcome at one local community of worship.
The Franciscan Renewal Center, also known as "The Casa," located in Paradise Valley, is a Roman Catholic Church that operates on a set of Franciscan values and is affirming and accepting of the LGBT community.
The Casa is open to all who claim a Christian or Catholic faith, and does not discriminate against people based on their sexual orientation. In the midst of controversial issues between Christians and members of the LGBT community such as The Nashville Statement, The Casa is solid in affirming and accepting all people, regardless of sexual preference.
But acceptance at The Casa is nothing new.
The church has been actively supporting the LGBT community for years, with next April marking their 19th annual Gifted and Called retreat for gay and lesbian Christians.
Hérve Lemire, deacon at The Casa and permanent Deacon in the Dioceses of Phoenix as well as a member of the Order of Friars Minor, spoke with Northeast Valley News about the LGBT community and their place at The Casa.
"We live the message that all are all welcome to this place," Lemire said. "All are welcome to the Catholic church as a matter of fact, according to what Pope Francis has said."
Lemire passionately expressed the views of The Casa, which practices a Gospel-oriented worship style. He pointed out that in the teachings of the Gospel, Jesus Christ welcomed everyone, which is why it is important for The Casa to do the same.
"[The Casa] Welcomes all persons – all persons, regardless of race, color, creed, sexual orientation, or otherwise. You are welcome in this Catholic church, and you should be welcome in every Catholic church," Lemire said.
Scottsdale Community College student Victor Morrison, who is studying nursing, believes that The Casa is sending the right message.
"It's really cool that they're doing that." Morrison said. "They don't judge – you shouldn't judge, is what I think."