Storytelling event brings community together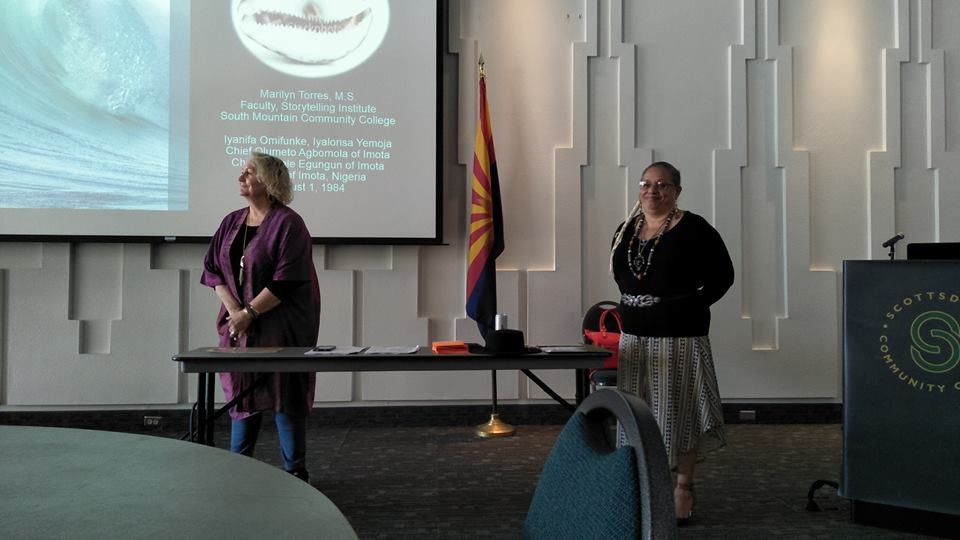 Puja Mahato, Reporter/SCC
September 28, 2017
Scottsdale Community College hosted a 'storytelling' event in the Turquoise Room on Sept. 21 organized in conjunction with South Mountain Community College.
Over 50 students attended the event, including five counselors from SCC.
Marilyn Omifunke Torres, known as the West Winds Storyteller in the Valley, spoke with North East Valley News about the importance of the story telling. She believes that storytelling is the primary form of human listening, sharing and connecting
"I believe storytelling is important as it's our heart on how we communicate with humans," Torres said. "I feel privilege because I'm traditional storyteller to be in the academic setting of bringing the traditional perspective on the world of storytelling and in many ways I think that storytelling is becoming more and more form of communicating where we are maintaining the hard-standard perspective of the issues of today."
Gia Taylor, Deans of Enrollment Services at SCC believes that storytelling changes people's perception by cooperating and communicating with others whether its personal interaction or whether it is professional interaction.
"It's especially useful in professional interaction because where individual needs to do public speaking and are able to in cooperate, are able to capture information to their listener's imagination and therefore strengthening the point," Taylor said.
Former SCC student Antonio Folcarelli shared his thoughts about the event and why it's important that storytelling events like this happen.
"Storytelling provides a different angle to think that you may never consider mainly the cultural aspects, people coming from different background that I may never have deal with but now when I heard that story I consider that same things and changed my perception about the hardship people have gone through or what they are capable of," Folcarelli said.
Male Empowerment advisor at SCC Aaron Taliaferro was also one of the people responsible for setting up the event. He believes that storytelling helps an audience relate to the storyteller and find common values and experiences.
"Storytelling is a universal connector," Taliaferro said.