Global Leadership Retreat helps students learn valuable skills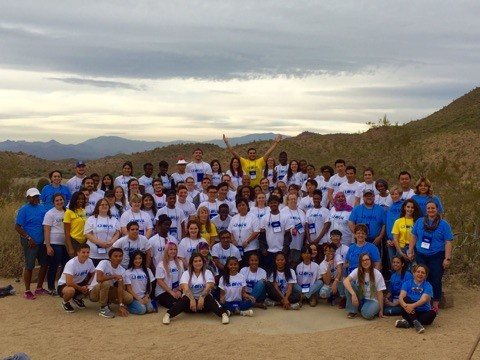 On Nov. 17 through Nov. 19. the Global Leadership Retreat (GLR) put together 74 students, including 39 international students across all 10 Maricopa Community Colleges, at the Lake Pleasant's Desert Outdoor Center to learn about culture, education and leadership around the world.
The retreat provided students the opportunity to work in small groups, public speaking and conflict resolution that required students to work in teams to accomplish numerous tasks.
The two and half day retreat is held every year in the month of November or October. This was the tenth retreat since 2008.
Therese Tendick, director of Scottsdale Community College Center for Civic and Global Engagement, chaired various activities at the retreat.
"We had purposeful directed intentional workshops and cultural assimilation games to get Maricopa students thinking about what it's like not to know the rules of another culture that you are in, and to be desperate to try to fit in that culture and understand the rules," Tendick said.
The retreat provides an environment for students from diverse cultures to discover unique customs and learn new perspectives in order to gain a better understanding of one another.
"We celebrate culture as part of the retreat and we hope they (students) learn more about the fact that how they deal with resolving conflicts based on culture that grew up in. We hope that it (the retreat) will blow some of the ideas that they have about stereotypes of people from those countries," Tendick said.
Dr. Anneliese Harper, Communication Department's faculty member at SCC, presented cultural assimilation games and a workshop on conflict resolution.
"The Global Leadership Retreat is an opportunity for the students from all of Maricopa community Colleges to develop an understanding of the issues involved in intercultural relationships between people and between countries," Harper said.
Chad Kavanaugh, a student at Paradise Community College was delighted by his retreat experience.
"I came to this leadership retreat with a completely open mind and had no idea the beauty that I would find in the people that I met here. It was absolutely an astounding experience," Kavanaugh said.
Mercy Lopez, an international student from Peru, was happy to learn leadership skills and said that the skills she learned from the retreat will help her to grow professionally.
The students were provided free accommodations, transportation, meals and T-shirts.