O'Neill was born to run
Hang on for a minute...we're trying to find some more stories you might like.
Rhode Island resident, Braylon O'Neill is an 8-year-old athlete who, like most kids, enjoys being active as much as possible.
However, there's something unique that Braylon possesses that most kids (fewer than 6 million people to be exact) do not.
Braylon was born with a rare fibula deficiency called Hemimelia, which resulted in the absence of his tibia and fibula at birth.
For Braylon and his family, finding the right sources and the best doctors was a long process that required extensive research and back to back travels.
Braylon's mom, Kelli O'Neill, a middle school teacher in East Greenwich, RI, spoke to Northeast Valley News about the remarkable journey and its challenges that resulted in Braylon discovering his passion at the early age in which he did so.
O'Neill started off with the first step of the process of finding the best physicians, which was meeting and consulting with a variety of different orthopedic surgeons. They met with four to five different surgeons in New England, as well as New York, before making the most important decision as to who his primary orthopedic specialist would be.
This became quite challenging due to the rarity of Braylon's case.
This process eventually resulted in the O'Neill family successfully finding everyone they needed, ranging from physical therapists to occupational therapists. O'Neill referred to them as more of a team of people that are responsible for his care and the making of his legs.
However, it does get more extensive.
Braylon's team consists of a prosthetist who makes his prosthesis, a physical therapist that works with him on his exercises as well as stretches.
More importantly, to help him readjust for when he needs to learn how to use his new legs. Because of how active Braylon is regarding his favorite sports and activities, as well as just being a typical kid, his legs break constantly.
This makes the prosthetists visits more frequent than usual, being there at least once a month, sometimes every week.
"In general, the average kid who isn't as active as Braylon would probably need a new pair of legs every 6-12 months, depending on growth spurts"
In 2015, Braylon and his family were featured in a Microsoft commercial that was used in the Super Bowl.
This commercial featured Braylon's empowering persona that truly inspires, the technology that gives prostheses patients top-notch equipment, as well as his love for sports, and what his prosthesis provides for this passion.
Due to the rarity of Braylon's uniqueness, there are many things that aren't quite known. One of which being the cost.
Specifically, what health insurance can and won't provide.
A pair of legs for Braylon right now costs between $30,000-$50,000. Even though O'Neill's health insurance does in fact cover more than 80% of that cost, there is a major catch that inserts complication to this matter.
"He broke a pair and we'd have to wait because they're not gonna cover another pair, so we have to pay out of pocket for it," O'Neill reveals.
New prosthesis is given based on a certain time-frame of which the doctors have seen Braylon grow to a certain point where he is due for his new legs, which as mentioned, would be 80% covered.
Health insurance companies draw the line at that point.
Each pair of feet ranges from $1,500-$3,000 depending on the pair that is needed. Unfortunately, this would be the case that healthcare would typically argue about.
As an active child, it is more than common to break a pair of feet.  This will leave any family who struggles with this to play a waiting game between the time the child or adult breaks their feet or legs until the time they're due for another pair based on their individual time frame. Ones that are in fact insured by their healthcare.
Otherwise, the pair would be paid for out of pocket.
Like every family who wishes their child to have the best of everything in their life and more, O'Neill has particularly strong feelings about the way the healthcare industry looks at these specific cases.
"I think that the healthcare industry is really discriminatory when it comes to individuals with more differences. But, I feel like they're kind of that wat for any kid that has a challenge, it's more about money than it is about what really helps the kid," O'Neill expresses.
Healthcare is a detrimental aspect to all people, whether it be a child with a few differences or an elderly citizen. There are more things, however, that matter most in both the parents and the child's eyes.
Every year since he was 3 years old, Braylon has participated in multiple events put together by the Challenged Athletes Foundation, a non-profit organization founded by Jim MacLauren, to support and provide the opportunity to people with physical challenges.
Thanks to CAF, Braylon has had a childhood where he has been surrounded by kids, his age and older, that look just like him and have always been very athletic. He has also been given the opportunity to apply for a grant every year that's funded by the foundation. These grants range from many things such as equipment for running feet to private hip hop and acrobatic lessons, last year's choice by Braylon.
This year, Braylon is applying for running feet because his are currently broken.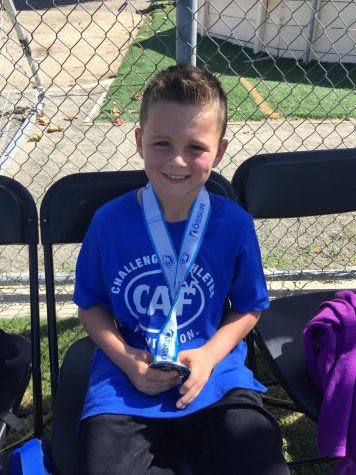 Courtesy of Kelli O'Neill
Braylon's network of supporters varies between every family member as well as every organization that provides for him and his family, but CAF holds a special place in the O'Neill family not only for the activities their child gets to be involved in or the grants he gets to receive but for the impact the foundation has had on Braylon.
"I think it's really affected his self-esteem and just helped make him a very confident person, who believes in his abilities," O'Neill tells.