Scottsdale celebrates the fine arts

More than 100 artists are currently exhibiting their work at the 28th Annual Celebration of Fine Art held in southwest corner of Hayden road & Loop 101.
With the theme titled "Where art lovers and artists connect," the event brings in artists from across the United States to set up working studios while interacting with art lovers about their work.
Featured artists in this event include
, painters, jewellery makers, fiber and glass artists and photographers.
According to the Co-Founder of the event, Susan Morrow Potje, this annual celebration has become a significant event in Scottsdale.
"My father was the one who originally started this [event] and it was inspired by the art festivals that take place in Laguna Beach in California every summer," Potje said. "He thought Scottsdale would be a perfect location for a winter exhibit like this."
Potje said they have considered adding a remote location as part of expanding the celebrations however, they have not found the right location at the moment.
Marilyn Evans who has been exhibiting at the event for over two decades believes the quality of the artists' work improves every year.
"I try to sell my work every day. It does not always happen, nonetheless, it is a very successful show," Evans said. "My work varies in the complexity of the design. The more complex, the more time it takes to do the work even if it is a smaller piece."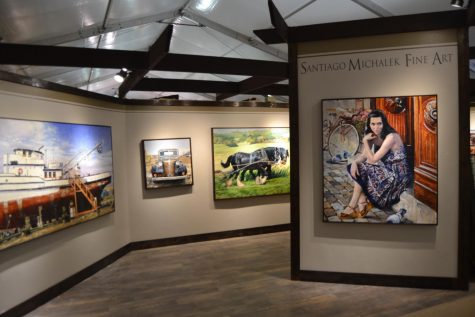 According to another artist, Matt Sievers, it took him four months to prepare for this event.
"I started preparing for this celebration in September last year," Sievers said. "Each year is better. It keeps growing, my work keeps developing and all the other artists here are like a big family so they are eager to get feedback and positive critics so they can really improve."
Todd Paxton said he likes to believe that each artist has their own style of design.
"I do bronze. I have two portfolios, one is very Native American and the other is just more figurative pieces," Paxton said. "I like to think that my work looks like mine simply because I try to let my art come from within."
The 10-week art celebration began on Jan. 13 and would end on March 25.