New lights bring new mindset to SCC softball 2018 season
It's a new season and a fresh start for the Scottsdale Community College softball team as returning for his second season, Head Coach Frederick Cabanillas, implements new culture.
The Lady Artichokes didn't have their best record in their 2017 season- with 19-35 to close the year.
"It's not about the wins or losses," Coach Cabanillas said. "(It's) Coming into this, trying to change the culture here."
As he is gearing up his team for the 2018 season, the strength will be 7 returning sophomores as he explains what is expected.
"We have that philosophy of you've been here for one year, you learn, you understand, you get the experience," Cabanillas said.
The veterans on the team have an impact on strengthening the program this year as this is the most returning veterans SCC has had in a while.
"It's student-athlete first and I'm gonna stick to that," Cabanillas said. "It's a building year and (we're) looking to change the culture."
He also made it very clear that academics are going to be a first and foremost for his players.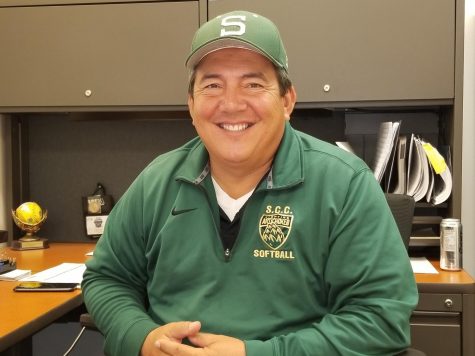 With the new lights being installed on the softball fields, this has allowed for night games to be played which is no longer taking away from class time for the student-athlete.
This improvement within itself has provided a drastic culture change for the program as opposed to years in the past with games being played during the day, cutting into the typical workday won't allow for spectating.
"Having the benefits of the lights is fantastic," Coach Cabanillas said. "Not only not being able to play in the heat, it brings the relatives, it brings the family down they can watch and local community."
"I love the night games, everyone wants to play under the lights," Sophomore Lauren Castellano said.
Hopefully, with the new coach, new culture, and new lights the goal of bringing a region championship home can be obtained with the new spirit and motivation.
"I think we have a really good team going on this year," Second base sophomore Alexia Vidal said as she prepares for her final season here at SCC.
Coach Cabanillas is ready for the 2018 softball season to take way, "Come out and watch. Come out and see us play. It's a lot of fun!"