SCC baseball thrives on pitching, team chemistry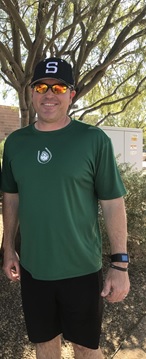 The 2018 Scottsdale Community College men's baseball season is underway and so far, the Artichokes have tallied an 8-9 record.
Northeast Valley News spoke to head coach Alex Cherney about the season prospects.
"I think we're inexperienced right now," Cherney said, but he sees the lack of experience as an opportunity for growth, to make the team stronger.
"We've got a good mix of sophomores and freshmen," Cherney said.  "They're really becoming a team.  There's a chemistry.  They really like each other.  They like to be out there with each other.  It's obvious that they enjoy each other's company."
Cherney said the team's biggest issue, early on, has been inconsistent play.
"We're a little bit Jekyll and Hyde right now," Cherney said.  "We're defining our personality as it (the season) goes.  Sometimes our personality isn't the same from start to finish and we get in trouble that way and a lot of that is because they're just learning for the first time."
"If we're gonna be good, two things need to happen, we need to play defense really well and more importantly though- the strength of our team needs to actually be the team," Cherney said. "It's not like we have two or three sophomores who kinda carry the torch.  It's gotta be everybody, every day."
Sophomore, catcher, Alex Gonzales sees pitching as one of the team's strengths. 
"Early on, we didn't really know exactly how our pitching was going to go.  But our guys have been in the zone and they've been competing.  So that's all we can ask of them," Gonzales said.
Sophomore, 2nd baseman, Nick Grossman points to the team chemistry, which Cherney spoke about, as another advantage for this year's squad.
"If you can have faith and trust in every guy in your line-up or every guy on the team you're going to have a lot of success," Grossman said.  "I think it's very important that you have good chemistry and that we all like each other and we all hang out with each other and win together, more importantly."
Grossman ended his interview with Northeast Valley News with an invitation to community members.
"We're kind of an open book", Grossman said.  "Come down and watch the games. We'll show you everything you need to know."
All Artichoke home games are played at the baseball field, located in the Dr. Arthur W. DeCabooter Athletics Complex on the campus of Scottsdale Community College.