Early season injury leaves Artichokes Volleyball reeling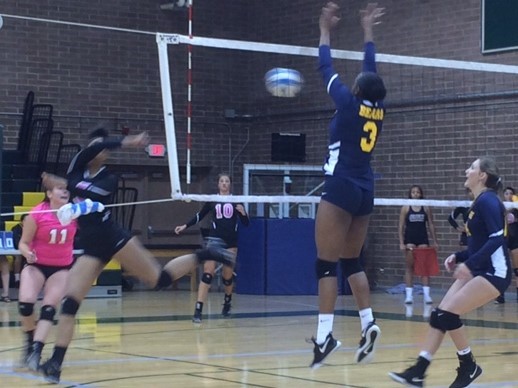 Ole Olafson, Reporter
September 7, 2018
The Lady Artichokes volleyball team (1-4) suffered a major blow to their line-up when NJCAA first team All-American, sophomore, setter, Raphael Temple was injured in an exhibition game.
"We suffered a big loss with an injury early on.  So we're still regrouping…sorta trying to figure out how to adjust," said head coach Regina Mannix.
"We got a little blind-sided— Raphael Temple was a standout in our conference, not just our team.  She's had a career ending injury," Mannix said.
Despite losing, arguably, their best player, the Lady Artichokes will forge ahead as they open up play in "The Scottsdale Classic" tournament.
The Artichokes will play three non-conference matches as they host Phoenix College, Ottowa University (Arizona) and College of Southern Nevada, Sept. 6, 7 and 8 respectively.
Mannix hopes this tournament will accomplish two major goals.
"Hopefully it shows them how to battle," Mannix said.  "We're hoping that we'll find a lineup that is our go-to lineup for the season…we haven't been able to do that yet."
Despite the setback of losing Temple, there are bright spots on the Artichoke's roster.  Three sophomores, all with playing experience, transferred to SCC.  Kalie Strickly from Phoenix and Sasha Bills from Mesa both played last season for Chandler/Gilbert CC.  Taylor Sheppy from Chandler played at Arkansas Pine Bluff before transferring in.
According to Mannix, sophomore, setter, Morgan Peters has really stepped up to help with the void left by Temple's absence.
"She's filling some big shoes and I think she's doing a good job of taking on that responsibility," Mannix said.
The team is also rejoined by two former players who have come back as assistant coaches.
According to Mannix, Rayla Thomsen is hands-on during practice and also films the team's matches and Brittney Oddo is the team's game statistician.
The Artichokes Hall-of-Fame coach seems undaunted by the team's early-season challenges.
"When you lose a big piece on your team, they tend to be the 'go-to' in really pressure situations, Mannix said.  "Now somebody else is gonna have get comfortable when they're uncomfortable."
Artichokes home games are played in the main gym of the PE building.