Mesa Book Festival showcases young adult authors
The 2018 Mesa Book Festival brought local authors to meet the public. There were around 83 vendors presented at this event with more than 100 local authors came.
The 2018 Mesa Book Festival also held exciting panels attended by local authors.
One of the panels was "The Popularity of YA" which presented local Young Adult authors: the author of "The Tiniest Tumbleweed" Kathy Peach, the author of "Dreaming in the Shadows" Ross Caligiuri, and the author of "Tanabata Wish" Sara Fujimura.
One of the YA books' themes that being popular is about superhero. Panelists discussed how superhero-related Young Adult books make readers feel as superheroes for themselves and their surroundings. However, the readers must also be given a reminder so that they do not feel superior.
This year's event was the second time for Sara Fujimura to be involved in the Mesa Book Festival. Last year, her first work "Tanabata Wish" was the only book she presented.
"Tanabata Wish" is a coming of age story and a first love story. The story is about an American girl who goes to Japan and falls in love with a boy who is half Japanese and half white.
"I wanted to write something also that had even boys as the hero of the love interest in the story. And, how many books do you see that have an Asian boy on the front?" Fujimura said.
In 2018, Fujimura released another YA book "Breathe" which is a historical YA romance book.
"'Breathe' is set in 1918 Philadelphia against the Spanish Influenza which killed hundreds of millions of people around the world. Nobody really knows about it because it was right during World War I and people were just so caught up in that they did not have a chance to really talk about it or did not want to talk about it after the war was done," Fujimura said.
Fujimura showcased both of her books on the 2018 Mesa Book Festival.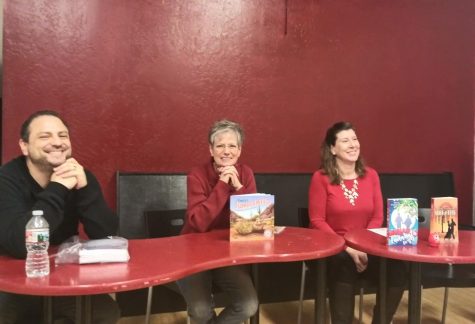 This year was the second event of the Mesa Book Festival organized by Anthology, Inc., a literary nonprofit organization based in Mesa, Arizona, and established in 1994.
Bob Nelson, the director for the 2018 Mesa Book Festival as well as the administrator of Anthology, Inc., said that this year's Mesa Book Festival did a lot of sharper panels.
"Our panels are a lot more focused in terms of content. We really want to encourage people to find the book that they love," Nelson said.
Nelson explained the idea behind the Mesa Book Festival that it is locally focused, so their priority is regional or local authors.
"We want people to learn to know who these people are and then become fans of these people, so that it creates a big literary community here in the valley," Nelson added.
The 2018 Mesa Book Festival is supportedby the Downtown Mesa Festival of the Arts, which gives opportunity to shop locally created art.
"When you come as an attendee, you are helping these people (the authors and publishers) build their audience. And when you buy a book from them, you are helping reinforce them," Nelson said.
One of the attendees was Brodie Hubbard and his son, Ace. He said that it was wonderful to see all the authors and publishers out.
"It (the 2018 Mesa Book Festival) lets local authors and publishers be supported and lets the rest of us also get some shopping done," Hubbard said.
Located in Downtown Mesa, the 2018 Mesa Book Festival successfully brought local authors and the community together.