Arizona COVID-19 cases continue to soar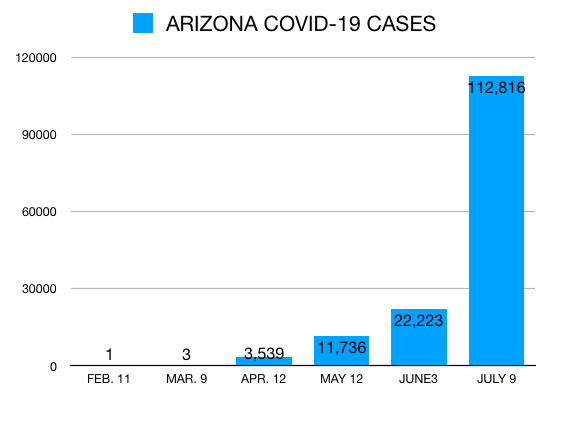 Globally, the United States continues to lead the world in number of confirmed COVID-19 cases at 3,118,168 with a worldwide total number of cases at 12,294,117. 
Johns Hopkins Coronavirus Resource Center lists Maricopa County in third place for top 50 confirmed cases in the United States behind only Los Angeles County and Cook County.
In the New York Times "World's Worst Outbreaks" chart, Arizona placed number one in data compiled for last week.
Global COVID-19 deaths are now 555,531 with the U.S. also leading in number of deaths at 133,291.
The U.S. is in second place worldwide with 969,111 COVID-19 recoveries with a global recovery total of 6,761,933.
COVID-19 statistics continue to rise on a daily basis in Arizona with a reported 112,671 cases, 2,038 deaths, and 13,341 recovered.
The age group of 20 years to 44 years continues to lead the number of confirmed cases in Arizona at 56,309 but their recovery rate is highest with a reported 111 deaths.
The COVID-19 confirmed cases in the 65 year old and older group is 12,990 but the death rate for this age group is an alarming 1,502 deaths.
As Arizona's COVID-19 numbers rise, the Arizona Department of Health Services statistics for Hospital Bed Usage on Wednesday shows Adult Intensive Care Units at 89 percent used, Emergency Department Beds at 44 percent used, and Inpatient Beds at 87 percent used. 
These usage percentages show a possible troubling situation as AZDHS statistics state out of 112,671 current cases statewide, only 18 percent of the cases are with people with a chronic medical condition. If the cases with chronic medical conditions rise even slightly, it could mean hospital bed usage will meet its maximum capacity.
On Wednesday, Arizona hospital emergency departments saw 1,980 patients while Tuesday saw 2,008 patients, all positive or suspected COVID-19 patients. These COVID-19 patient numbers were the highest reported patients seen in this pandemic.
AZDHS reported the highest number of ventilators in use by positive or suspect COVID-19 patients this week with 544 on Monday climbing to an all time high of 575 on Wednesday.
Huge increases of positive COVID-19 patients or suspected COVID-19 patients have been reported being seen at Arizona hospital emergency departments were reported this week with 1,980 patients on Wednesday and 2,008 on Tuesday. 
The AZDHS COVID-19 Statistics for Arizona Confirmed Cases and Deaths on July 9:
Number of Cases 112,671
Number of Deaths 2,038
Cases by Gender – 48% Male – 52% Female
Deaths by Gender – 55% Male – 45% Female
Cases with chronic medical condition – Yes 18% – No 82%
Maricopa County 73,165 cases 1,012 and deaths

 

Pima County 10,835 cases and 313 deaths
Yuma County 7,899 cases and 124 deaths
Pinal County 5,156 cases and 82 deaths
Navajo County 4,150 cases and 134 deaths
Apache County 2,520 cases and 101 deaths
Coconino County 2,338 cases and 97 deaths
Santa Cruz County 2,095 cases and 27 deaths

 

Mohave County 1,595 cases and 96 deaths
Yavapai County 1,037 cases and 11 deaths

 

Cochise County 905 cases and 20 deaths
Gila County 385 cases and 11 deaths
La Paz County 384 cases and 7 deaths
Graham County 180 cases and less than 3 deaths
Greenlee County 27 cases and less than 3 deaths
The AZDHS COVID-19 Confirmed Cases and Deaths by Age Group:
Less than 20 years 12,620 cases and 8 deaths

 

20 – 44 years 56,309 cases and 111 deaths
45-54 years 17,382 cases and 138 deaths
55 – 64 years 13,225 cases and 279 deaths
65 years and older 12,990 cases and 1,502 deaths

 

Unknown 145 cases and 0 deaths
The Centers for Disease Control and Prevention (CDC) COVID-19 recommendations to protect yourself and others:
Avoid close contact with people who are ill and maintain at least a six foot distance from all people outside of your household.
Clean and disinfect daily all surfaces that are touched frequently.
Monitor your own health for symptoms of COVID-19. If symptoms develop, take your temperature and refer to CDC guidelines and your health care provider for more information.
Use a cloth face covering that covers both your nose and mouth when around others.
Use a tissue or the inside of your elbow to cover coughs and sneezes and do not spit. Discard tissues and immediately wash your hands with soap and water for at least 20 seconds.
Wash your hands frequently with soap and water for at least 20 seconds.

 

Use a hand sanitizer with at least 60% alcohol when soap and water are not available. Do not touch your eyes, mouth, or nose with dirty hands.