Artichokes football wins shootout with Glendale
The Artichokes' strong start to the season continued with a 35-27 win over the Gauchos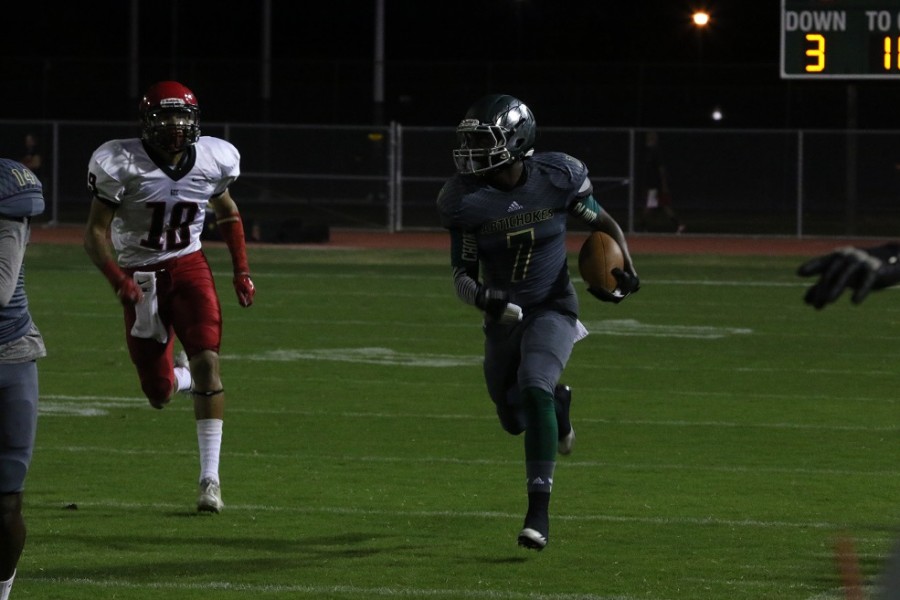 Nicholas Tirella, Sports Editor
September 13, 2015
A game that should have been in the books early turned into a close battle, with the Scottsdale Fighting Artichokes just hanging on at home.
The 19th-ranked Artichokes defeated the Glendale Gauchos 35-27 on Saturday night. The Artichokes were up on the Gauchos 29-10 at half time but during the second half of the game, the Gauchos began to catch up, scoring 17 points. The biggest fear for the Artichokes in this game was the ability to finish the game on top and to not let the Gauchos overtake them.
"We have the ability to be good and we need to do a better job at finishing and not being up and down," head coach Doug Madoski said. "We can't lower our expectation levels because we jump on somebody early. We have to finish in everything we do."
The defense played well for the most part on Saturday, as the defensive line disrupted the Gauchos in the passing game to the tune of four interceptions. The secondary brought two of the four interceptions back for touchdowns. Another interception led to an easy Artichokes offensive touchdown when the pick ended in the red zone. The Gauchos did score 17 points during the second half of play as the defense became easier to break down and let the Gauchos slide past them to start the comeback.
"We could have had another shutout but we got four turnovers and got the ball back to our offense, so we got to get more and more turnovers every week," said cornerback Chevoski Collins.
Offensively, the pass game was average as half the time Artichoke quarterback Tyler Bruggman either made connections that led to hard earned yards, tossed it out of bounds or saw receivers drop the pass. The receivers are very talented but in this game, they could have added more points to the board. The run game showed a lot of potential for the rest of the season as running backs Juice Davis and Armond Weh-Weh found holes created by the young offensive line and drove the ball up the field with power.
"I feel like the offensive line is coming along and getting better every week," Weh-Weh said.  "The more experience they get, the better the backs are going to be as well as the team."
The Artichokes' next game will be at home against #6 Snow College on Sept. 19.