Artichokes downed by Snow College
In a battle of ranked teams, the Badgers got the better of the Artichokes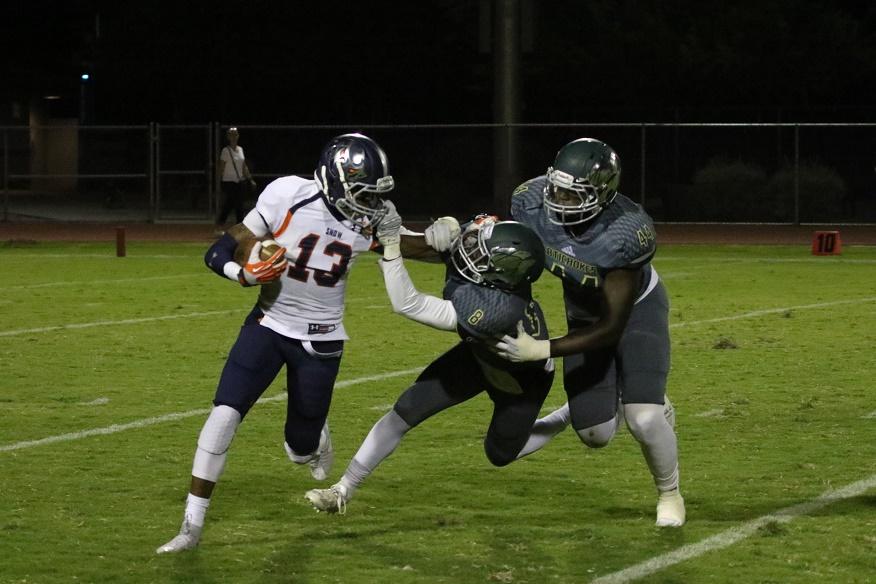 Nicholas Tirella, Sports Editor
September 20, 2015
Snow College's 31-14 victory over the Scottsdale Fighting Artichokes on Saturday night seemed decided from the first play.
That first play was a kickoff return for a touchdown, and the sixth-ranked Badgers never looked back in a cohesive win over the 18th-ranked Artichokes in Scottsdale.
"I think it shell-shocked us a little but at the same time we tried to fight and put ourselves in the best position we possibly could," head coach Doug Madoski said. "At the end of the day there are no excuses, we just didn't finish."
The Artichokes lost this game in the first half, as the Badgers built an insurmountable 28-7 lead before halftime. The early lead would plague Madoski's troops the rest of the game as the Artichokes tried to bounce back, but it was not to be. However, it was more than just on-field issues for the Artichokes on this night. Some players would yell at each other on the sideline and it seemed as if the team wasn't on the same page.
"We have a good group of guys, but once stuff starts going the wrong way, we get in our head and let the emotions get to us and kind of start to fight with each other," defensive back DJ Olmsted said.
What surprised most was the way the Badgers quarterback Stefan Cantwell moved around in the pocket as it collapsed and forced Artichoke defenders to chase him around all night. The Artichoke defense missed some tackles or in some cases wouldn't bring the Badger player down until further down the field. The less-than-stellar defense ensured the Artichokes would start 2-1 for the third consecutive season.
"I think we did a good job putting the quarterback on the run, but we have to do a better job containing those quarterbacks and can't let them cut across the field," Madoski said.
Cornerback Chevoski Collins did manage two interceptions on the night but when the offense got the ball right after the picks, they wouldn't capitalize. The Artichoke offense had trouble moving the ball down the field as the Badgers notched six takeaways. This would lead to some scuffles in the second half of the game as some of the Artichokes lot their tempers.
"We just have to get better," quarterback Tyler Bruggman said. "Obviously we didn't get it done but we will look over the tape, correct what needs to be corrected and move on."
Olmsted believes the Badgers' early momentum was too much to overcome and that leadership has to take a stand.
"I feel like we could have fought back towards the end but the momentum got to us," Olmsted said. "We got to keep our heads up and leaders have to be leaders."
The Artichokes will be away next week, as they travel to play New Mexico Military Institution on Sept. 26.